ABC-NLP is a pure form of Neuro-Linguistic Programming (NLP) that uses the ABC-model from behavior analysis as a meta-strategy. NLP is a methodology to map human behavior that is mostly used for overcoming psychological problems (Neuro), communications (Linguistic) and finding smart strategies for a better life (Programming). To be clear: NLP is not a science and is not scientifically proven. Yet, NLP is used daily by millions worldwide as they find that NLP works very well for them in their lives. Philosophically, NLP is linked to pragmatism, caring only about what works rather than what is true. While pragmatism is very broadly embraced within philosophy, it is not so easily accepted by scientists overall.
The ABC-model on the other hand has a very strong foundation within science. With over more than 60.000 scientific experiments supporting the ABC-model, the ABC-model is found to be highly likely. Currently, the ABC-model is used by behavior analysts, who really are behaviorist in disguise. ABC stands for Antecedents, Behavior & Consequences. Antecedents is defined as everything happening just before the targeted Behavior. Behavior is whatever someone is doing. Consequences is everything that happens right after the targeted Behavior. What behavior analysis shows is that the Consequences have a lot more influence on future Behavior than the Antecedents. Yet, most people invest heavily in the Antecedents rather than in the Consequences when they want to change specific behavior.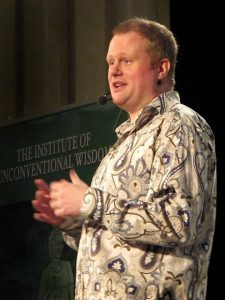 My name is Joost van der Leij. My background is in academic philosophy which I taught to freshmen for three years at the University of Utrecht.  I am also a Licensed NLP Master Trainer™ having taught NLP for the last decade. This gives me a unique position to introduce ABC-NLP. What happened is that when I learned about the ABC-model I had the insight that almost all work within the field of NLP focuses too much on Antecedents rather than on Consequences. So I immediately started to implement the ABC-model in my NLP training & coaching, resulting in ABC-NLP. In this respect I am working together with the behavior analysts of the Aubrey Daniels Research Institute for Behavior Analysis of the VU-University of Amsterdam, ranked #73 in the Times International University Ranking. Together we are scientifically researching ABC-NLP. One of the ways this research is done is by using a Licensed NLP Business Practitioner™ training program at the university that is linked to the ABC-model as a meta-strategy enabling us to find out how good ABC-NLP works. This is made possible because for the last couple of years I already have done protoscientifical statistical research in NLP training & coaching. This work is now being used as the baseline measurement against which we test how well ABC-NLP works.

The international ABC-NLP website is here to explain ABC-NLP to the non Dutch-speaking world. There is also an extensive Dutch website about ABC-NLP. The Dutch website is much more concrete and has lots of specifics as the Licensed NLP Business Practitioner™ training program will be in Dutch. Nevertheless, that development has wide implications for NLP practitioners worldwide and we hope that ABC-NLP gets also internationally supported. To make that happen this ABC-NLP website is more philosophical and academic, explaining the ABC-model to Neuro-Linguistic Programmers and NLP to scientists. Furthermore, we have a section on the relationship between NLP and science. It is our aim to create a scientific version of NLP out of ABC-NLP. And vice versa we aim to bring the tradition of academic reasoning into NLP. Finally, we ask all people who love these ideas to support us where they can. We are embarking on a wonderful adventure and we know that we have the makings in us to see this adventure through to a most positive outcome. Nevertheless, we can use all help we can get so we can arrive at the promised land faster, easier and with more people.